IRSí UBIT Decision is a Big Victory for Credit Unions

By David Adams
Credit unions recently scored a huge victory that everyone in the industry should celebrate.
The Internal Revenue Service finally decided, after two federal court cases won by credit unions, that certain products are defined as "substantially related income," and so not subject to unrelated business tax. This is a victory on two fronts – first, that state-chartered credit unions don't have to pay these taxes and are eligible for refunds of any payments; and that it denies bankers a "toe in the door" to taxing credit unions, another ongoing advocacy issue. MCUL & Affiliates was part of a coalition that fought this battle and included many organizations: CUNA, CUNA Mutual Group, the American Association of CU Leagues and the National Association of State Credit Union Supervisors. This is a great example of the work we accomplish on the advocacy front, but sometimes it takes years of commitment. This particular battle went on for 15 years, but it was well worth the effort.
The big issue on the regulatory front right now is risk-based capital. Comments are due on the NCUA's Risk Based Capital proposal on May 28 and I'm encouraging you to closely review the proposal and assess the potential impacts on your operations as well as the industry. CUNA and MCUL believe that this proposal, as drafted, will impact credit unions by requiring unnecessarily high levels of regulatory capital on a risk-weighted basis. We are working on the MCUL letter and welcome your input. But NCUA needs to hear directly from credit union leaders regarding their specific areas of concern. Higher regulatory capital requirements will hinder future growth and potentially create adverse effects on the way credit unions approach mergers, lend to members and run operations. Click here to learn more about MCUL's efforts on the Risk Based Capital Rule.

As you know, promoting the credit union difference continues to be a high priority. CU Link, our annual cooperative advertising campaign, launches next week and will run through the end of this year on a variety of media channels including TV, radio and online. Our credit unions contributed a record $1.1 million to the campaign this year and once you factor in MCUL and matching contributions, the final budget will be $2.4 million. Importantly, this year we have 68 credit unions contributing full share and 20 new contributors. Click here to learn more about the CU Link campaign.
One way we show the credit union difference is through financial literacy efforts. This month we recruited a high-profile supporter when Gov. Rick Snyder joined a Money Smart Week event at a branch of the Detroit Public Library. He read the Berenstain Bears' Trouble With Money book, which MCUL & Affiliates donated to libraries throughout the state, on behalf of the credit unions of Michigan. Click here to learn more about Money Smart Week and Snyder's visit to the library.
Another initiative this month is the Financial Literacy Legislative Challenge, which pairs lawmakers and credit unions to speak at local schools. The legislative challenge is a great opportunity for your lawmaker to get exposure while showcasing your credit union's commitment to the community. This year, we have 37 Michigan credit unions participating in the Challenge. Click here to learn more about the Financial Literacy Legislative Challenge.
Our education team has been busy working on this year's Annual Convention and Exposition, which will have a focus on the latest developments in payment systems. We've recruited some exciting speakers, including Dan Schulman from American Express, who will talk about their partnership with Walmart on the Bluebird product, which targets low- and moderate-income unbanked consumers.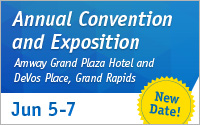 Our two special guests at this year's convention will be Gov. Rick Snyder and Desmond Howard, Heisman Trophy winner, NFL Super Bowl MVP and ESPN football analyst. Be sure to take a moment and get registered if you haven't done so yet, and we'll look forward to seeing you in beautiful Grand Rapids in the first week of June. We don't want anyone to miss this great opportunity. Click here to learn more about the AC&E.
CU Solutions Group started off 2014 strong, continuing its dedication to help credit unions serve, grow and remain strong by expanding our technology expertise, developing dynamic products and services and cultivating partner relationships to benefit credit unions.
Last fall, CU Solutions Group reached out to credit unions and members for input on how Invest in America is working. Based on this input, CUSG is refining the program, starting with changing the name to Love My Credit Union Rewards. This new name provides the opportunity to add more discount partners and the new brand will align more with the value proposition. Additionally, CUSG is developing better marketing tools and easier implementation that support GM, Sprint, Intuit, Auto Club, Shop America and other discounts.
For instance, in order to secure more new auto loans on GM products, our premium program gives you real-time access to member contact information at the time they request the GM authorization codes. Don't miss this opportunity to boost auto lending with a simple marketing commitment on your part.
CUSG Technology Solutions has teamed up with Access Softek to bring credit unions the latest in mobile banking technology. Mobile Finance Manager integrates three key mobile banking technologies – native downloadable apps, mobile-optimized web and short message service – to give credit union members dynamic mobile banking anytime, anywhere. This new direction is part of our commitment to broaden our remote service delivery solutions beyond our core expertise of web design, hosting and content. Click here to learn more about Mobile Finance Manager.
Another product enhancement can be found in CU Solutions Group's Performance Solutions division with the salary administration application Compease, which has been completely updated and is now cloud-based. This transition also makes it possible for credit unions that use Performance Pro for goals and performance evaluations to seamlessly integrate the two programs to reduce duplication and save time, making it easier to update reports. Click here to learn more about Compease.

In our Michigan Solutions division, a new affiliation with Spireon will bring credit unions an automotive collateral management solution called LoanPlus CMS. LoanPlus helps credit unions make more auto loans with less risk by tracking the vehicle and notifying members when payments are due. This solution leads to decreased loan delinquencies and can even help recover stolen vehicles. Click here to learn more about LoanPlus CMS.
We also have some management changes to share. Early this month, Christina Lethlean, former CEO of Gesa FCU in Richland, Washington, joined our organization as executive vice president and CFO of Michigan Solutions, a division of CUSG that provides products and services especially for Michigan credit unions. Lethlean will help innovate on ideas such as business partnerships, venture capital investing and lending conduit strategies and she will supervise our finance and administration; product development; and Credit Union relations functions.
As we previously announced, we have been in the process of moving HRN Performance Solutions to Livonia. As part of this transition, we promoted Aaron Adams to senior vice president of Performance Solutions. Adams' experience within CUSG Performance Solutions, Price Waterhouse Coopers and the credit union system uniquely qualify him for this position.
Now let's take a look at performance results numbers for this past two quarters. We continue to see positive results for both the industry and for MCUL & Affiliates.
Michigan credit unions continued to see strong results in the fourth quarter of 2013. Year over year, credit union membership was up by more than 78,000 – a total of more than 157,000 in the last two years. Solid earnings allow credit unions to move the net-worth-to-total-assets ratio to 11.42 percent, up from 11.08 percent at the end of 2012. Overall, our credit unions saw growth in a variety of loan types including auto, student, mortgage and business loans. Credit unions now hold 18.6 percent market share on new indirect auto loans, while student loans and business loans are up 32 percent and 26 percent for the year, respectively.
For the league, our first quarter was a successful one. We started the year with an increase of $563,000 in members' net assets, well above the budget of $367,000. Subsidiary income of $1.4 million and investment income of $300,000 positions the league to offer association services with low member dues and high-quality services.
CUSG also had a solid first quarter with $1.7 million in net income versus a budget of $1.3 million. Leading the way in revenue, we saw Sprint activations, participation in the General Motors vehicle program, and Technology Solutions all growing ahead of budgeted levels. The post-merger CUSG has more investments on the balance sheet and produced $318,000 in other income during the first quarter. This successful CUSO offers some of the best solutions in the industry, which is borne out by the positive results we see every quarter.
Thank you for taking the time to read this Priority Report on the initiatives we are working on here at MCUL & Affiliates. Visit mcul.org to learn more about any of the priorities I have discussed today, or feel free to reach out to me or my staff for questions and information.